Stronger Catholic Schools
Especially during the pandemic, we have witnessed the tremendous impact that Catholic schools have on their students. In the spring, our schools pivoted immediately and effectively to virtual learning. During the summer, our Catholic Schools Office worked tirelessly to create a comprehensive and safe plan to get students back in the classroom for the new school year. 
"The success that we've had in our Catholic schools has actually led to a change in state-wide policy because we've proven that you can have kids in school safely. It's really been an incredible outcome," said Thomas Carroll, Superintendent of Boston Catholic Schools.
Your gift to the Catholic Appeal helps fund the work of the Catholic Schools Office in supporting the 100 elementary and secondary schools in our Archdiocese that help students go further with faith.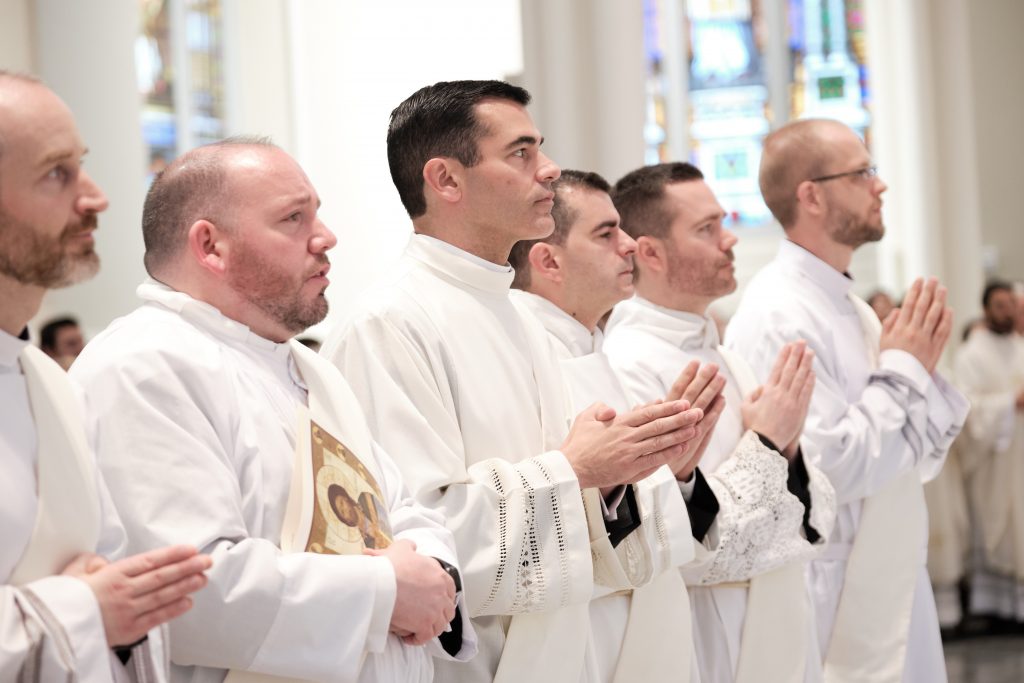 Serving the Faithful in our Church.
We fully commit to supporting the formation of our priests and permanent deacons from their earliest stages of vocational discernment through study, ordination, and beyond so that they may fulfill their calling by joyfully serving the faithful in our Church.
Our priests and deacons are the lifeblood of our parish communities. They baptize our children, preach the Gospel, preside at our weddings, comfort us in our suffering, and so much more. They serve the faithful from cradle to grave in a lifelong vocation of service and are the collective embodiment of Christ's loving and merciful heart. The vibrancy of our Church depends on a growing number of needed priests and permanent deacons. Their work is paramount to growing our faith.
Your charity helps us to inspire and train men of service for ordination to the priesthood and permanent diaconate.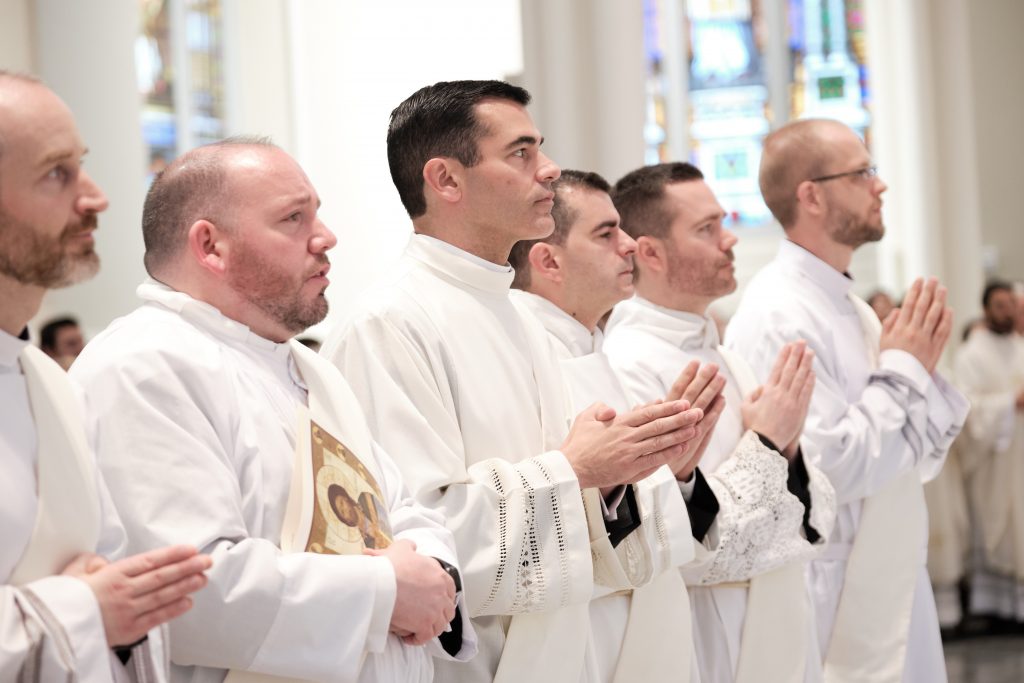 Stronger Parish Communities
supported by a team of Experts.
Many of the 51 central ministries of the Archdiocese act as valuable resources for our parishes – especially in the midst of the pandemic. Pastors and parish staff were particularly thankful to have a team of expert professionals that they could rely on for guidance and support every day so they could continue their mission. Here are some examples of the ministries that many people wouldn't know are working behind the scenes to ensure your parish remains strong:
RISK MANAGEMENT: offers updates, comprehensive guidance, and helpful advice so parishes can ensure their community remains as safe as possible at all times.
HEALTH CARE ETHICS: provides expert guidance, support, and advice on best practices for health care and safety, especially during the pandemic.
FAMILY LIFE: provides materials, virtual resources, and support to families and persons with disabilities so that they can stay connected to their Church and continue their faith journey.
BENEFITS: offers assistance and support to ensure parishes continue operating financially and productively.
Your support of the Catholic Appeal ensures there is always a team of experts to guide and assist our parishes so that they can continue helping us all live our faith together.
Pro-Life Ministry & Palliative Care
Human Dignity From conception to natural death.
Pro-Life Ministry
Our Pro-Life Office is committed to building a culture of life in the Greater Boston area through the work of its various ministries. 
Pregnancy Help Centers provide compassionate, practical, life-affirming alternatives for women facing crisis pregnancies. Through our centers, women can receive free pregnancy testing and ultrasounds, supportive services and referrals, and adoption information. Project Rachel ministry is comprehensive and confidential, offering hope, healing and yearly retreats to women and men hurting from past abortions.
Marianne Luthin, Director of our Pro-Life Ministry, states, "Our work encompasses the core values of respect for the dignity of life from conception to natural death. These programs help us to promote a better understanding that every person plays a role in building a culture of life and a civilization of love."
Palliative Care Ministry
Palliative Care is also a type of ministry that is pro-life because we believe that human life is a gift from God that no one may dispose of at will.
Palliative care – a form of medical care that relieves patients of the symptoms, pain and mental stress caused by chronic or terminal illness – addresses the reasons people often give for supporting assisted suicide.
The Archdiocese of Boston is at the forefront of the palliative care movement and there is a huge demand for our ministry's information and services. 
Your gift to the Catholic Appeal supports the work of Pro-Life and Palliative Care to help advocate for human dignity for all.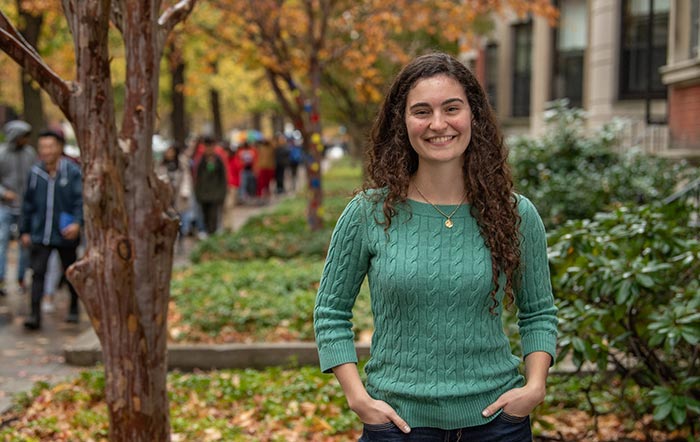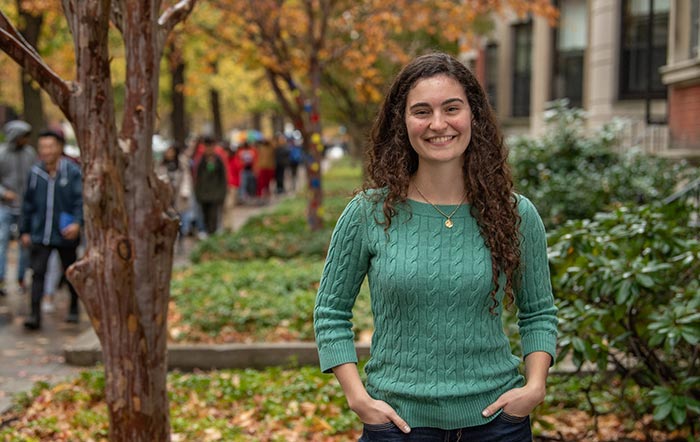 Many students like Marcella, (pictured left), arrive on college campuses needing to take ownership of their faith lives for the first time as young adults away from home and family. Unfortunately, research shows that students who leave the faith in college no longer return at a later age, which makes the work of our Campus Ministry programs critical to the future of our faith. 
Fr. Eric Cadin, Director of Vocations and Campus Ministry for the Archdiocese of Boston, sees an enormous opportunity at a critical time to bring college students closer to their faith. "We cannot do this work alone. And the opportunity is an extraordinary one in the difference it can make in our Church," says Fr. Cadin.
Your gift to the Catholic Appeal supports faith formation programs for children, college students, and adults that are critical to shaping the future of our Church.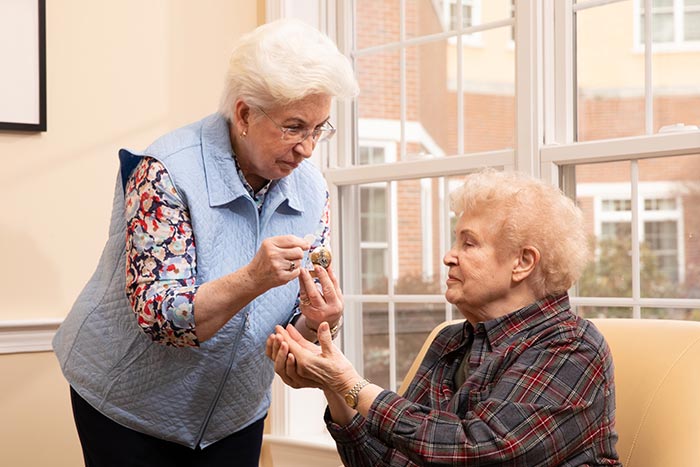 Chaplaincy & Faith Community Nursing
CHAPLAINCY
The Archdiocese's Chaplaincy Office oversees, trains, and coordinates hospital and prison chaplains serving all over Greater Boston.
The halls of a hospital can often be a place of great uncertainty and concern for patients and hospital staff alike, a truth magnified during the pandemic. At Winchester Hospital, Chaplain Mary Beth Moran brings a ministry of presence to all those she encounters, offering a message of hope during difficult times. With extensive training and expertise in her field, she has also provided counsel for the hospital's board of ethics. During the pandemic, she has pivoted swiftly to ensure she can continue ministering to patients and staff in a safe way.
FAITH COMMUNITY NURSING
The Archdiocese of Boston supports the training of volunteer faith community nurses who offer spiritual, emotional, and health-promoting support for sick and homebound parishioners.
Gerry Nelson, one of these nurses, volunteers nearly 20 hours of her time each week to offer assistance to those in need. "I think the difference between being a faith community nurse and being a visiting nurse, is my availability to those I serve. I am helping people search out and resolve the problems that they may be dealing with, whether it's an emotional issue or a health issue," said Gerry.
Your generosity supports chaplains and faith community nurses in their work as they bring the presence of Christ to those in need of His love and mercy.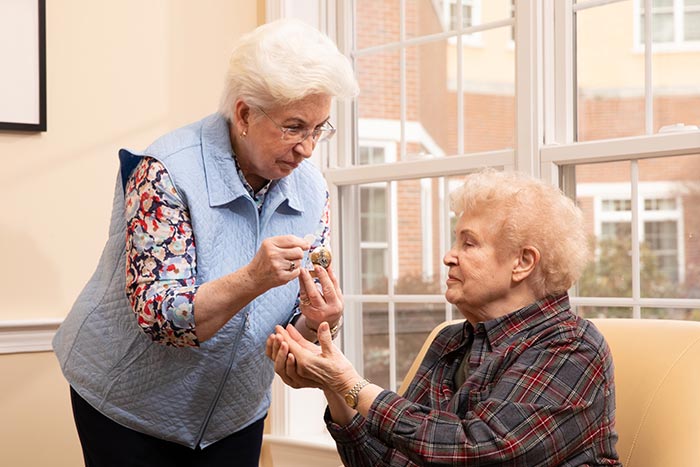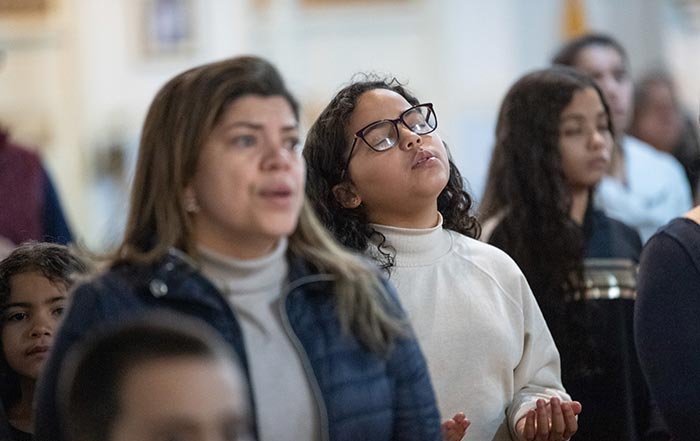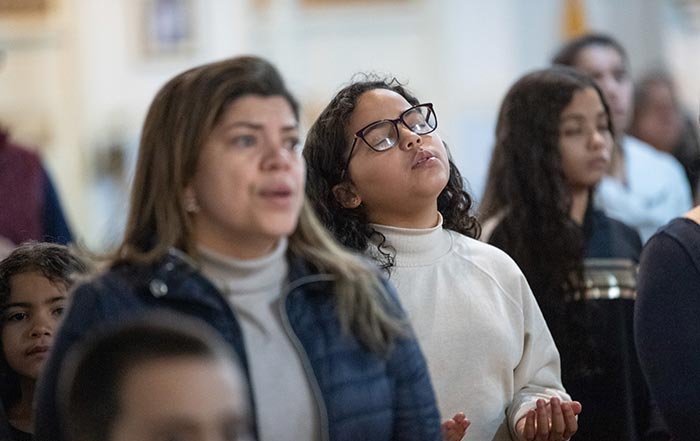 Support for Ethnic Ministries
Embracing and Serving our culturally diverse church.
At the Archdiocese of Boston, we celebrate our cultural diversity. With Mass said in 22 different languages at nearly 100 parishes, we are ethnically rich and diverse. 
For many immigrants starting a new life in our country, our parishes are the first place they can call home. A home away from home, they provide a much-needed place for community and immersion into a new culture while practicing their faith.
Director of Faith Formation and Missionary Discipleship for Ethnic Communities Natalia Pellicano and the members of her team work tirelessly to provide the advocacy and consultation services needed to integrate ethnic communities into our parish life. The team is an essential part of our Church's emerging cultural landscape. 
"Our role is to connect these communities to the resources that will help them flourish and make the mission of Christ easily accessible for them," Natalia says.
Your generosity supports a team that provides support to ethnic communities at parishes across the Archdiocese.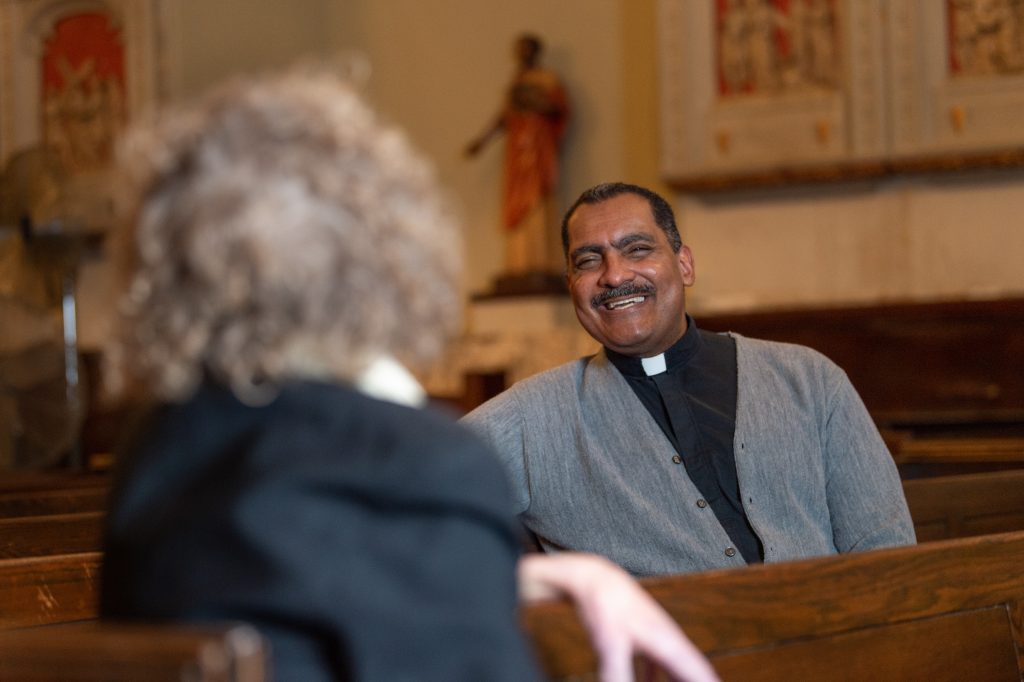 following catholic social teaching.
At the heart of Catholic Social Teaching is the commandment to love thy neighbor. Our Social Justice Ministry works to help our communities live out this commandment in real and meaningful ways.
Led by Chair, Pat Dinneen and Fr. Oscar Pratt, pastor of St. Katharine Drexel Parish in Roxbury, this ministry helps coordinate the annual Social Justice Convocation. This event offers people to learn more about how they can get involved in their communities, and help ensure that the world around them is a safe and just place for all.
The main objectives of this ministry are to:
Help eradicate root causes of poverty and injustice in the Archdiocese, nationally and globally
Build a network of diverse and inclusive faith-based Social Justice organizations
Mobilize grassroots support in local parishes and collaboratives
Advocate for systemic change in unjust policies and structures.

Your gift helps our Social Justice Ministry share Catholic Social Teaching with those in our communities who can put faith into action to promote change.