oUR STUDENTS ARE GOING FURTHER WITH FAITH.
Approximately 15% of funds raised through the Catholic Appeal supports education within the Archdiocese of Boston. This includes supporting 31,000 students and 3,000 faculty at our 100 Catholic schools, as well as providing education and guidance to future priests.
Our Catholic Schools Office (CSO) oversees and supports all primary and secondary schools within our Archdiocese. Currently, the CSO is working to accomplish four main goals to: improve the quality of school leadership; improve the Catholic identity of our schools; expand early childhood education, and; help schools build a foundation of strong enrollment, sound finances, and operational vitality.
Your gift to the Catholic Appeal helps fund the work of the Catholic Schools Office in ensuring our Catholic Schools remain strong so that they can continue to help students go further with faith and build successful futures.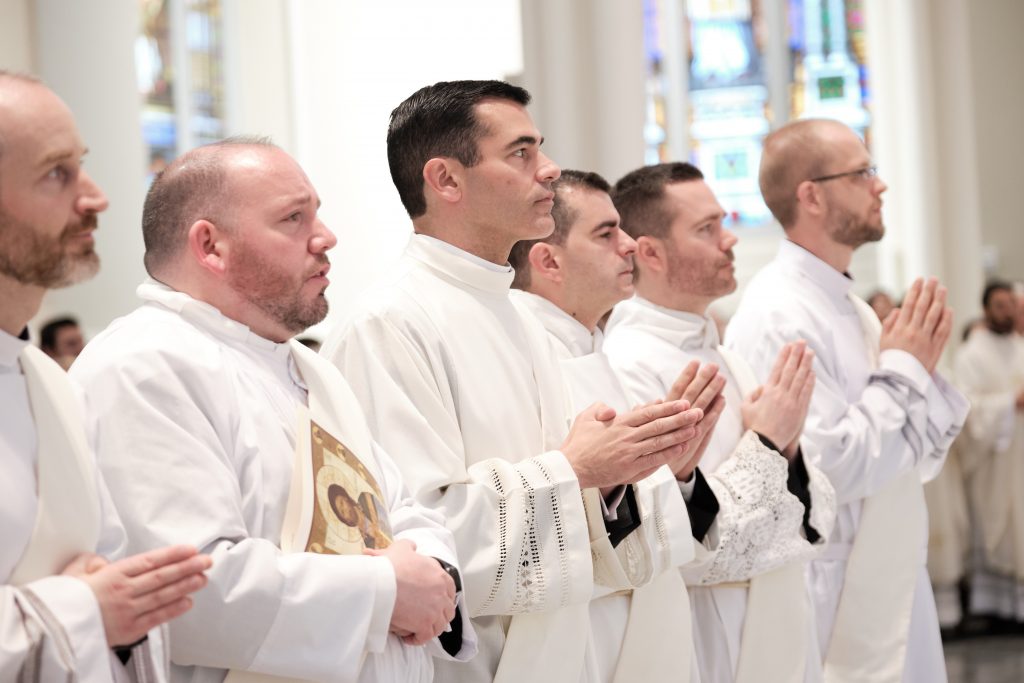 Serving the Faithful in our Church.
We fully commit to supporting the formation of our priests and permanent deacons from their earliest stages of vocational discernment through study, ordination, and beyond so that they may fulfill their calling by joyfully serving the faithful in our Church.
Our priests and deacons are the lifeblood of our parish communities. They baptize our children, preach the Gospel, preside at our weddings, comfort us in our suffering, and so much more. They serve the faithful from cradle to grave in a lifelong vocation of service and are the collective embodiment of Christ's loving and merciful heart. The vibrancy of our Church depends on a growing number of needed priests and permanent deacons. Their work is paramount to growing our faith.
Your charity helps us to inspire and train men of service for ordination to the priesthood and permanent diaconate.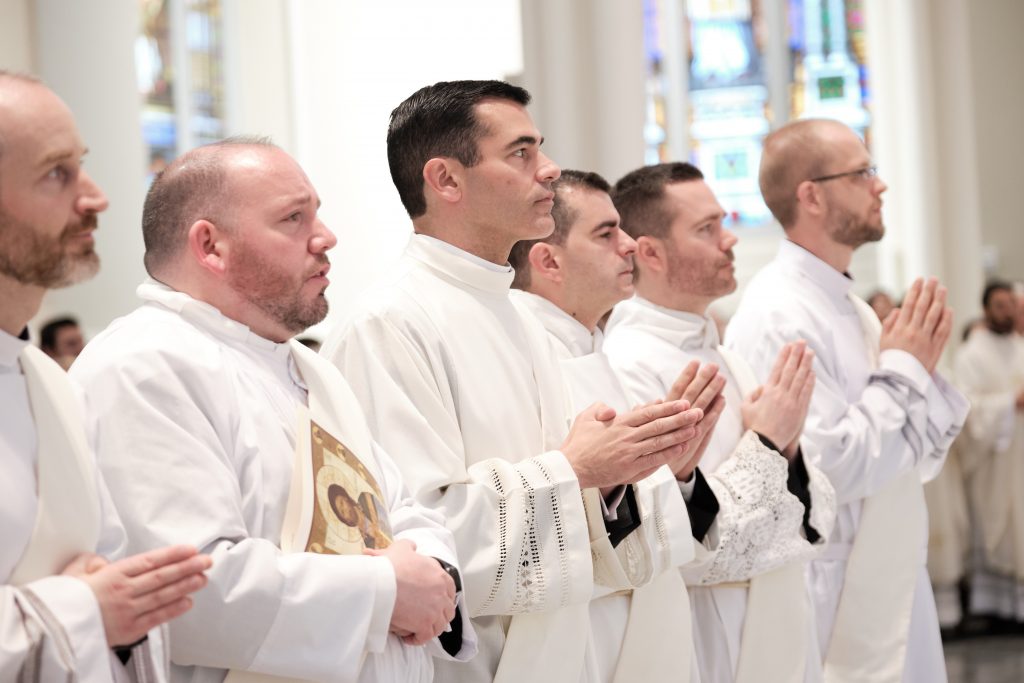 PARISH & OPERATIONAL SUPPORT
Helping our parishes do what they do best.
Nearly half of the funding received through the Catholic Appeal helps the Central Ministries of the Archdiocese support our parishes and ensure the Church in Greater Boston remains vibrant. This includes serving our 260 parishes, from offering support for wide-ranging operational needs to assisting with property damage and other maintenance. Below are a few examples:
RISK MANAGEMENT: offers constant pandemic updates, comprehensive guidance, and helpful advice so that parishes can ensure the safety of their parishioners, students, and communities.
BENEFITS: provides assistance and support to ensure that parishes can continue operating financially and productively.
HUMAN RESOURCES: assists parishes in finding and hiring employees, ensuring workplace accountability, and other employment consultation services.
HEALTH CARE ETHICS: provides expert guidance, support, and advice in regards to healthcare, safety, and best practices, especially during the pandemic.
Your support of the Catholic Appeal ensures there is always a team of experts to guide and assist our parishes so that they can continue helping us all live our faith together and serving those in need throughout our communities.
Pro-Life Ministry & Palliative Care
Human Dignity From conception to natural death.
Pro-Life Ministry
Our Pro-Life Office is committed to building a culture of life in the Greater Boston area through the work of its various ministries. 
Pregnancy Help Centers provide compassionate, practical, life-affirming alternatives for women facing crisis pregnancies. Through our centers, women can receive free pregnancy testing and ultrasounds, supportive services and referrals, and adoption information. Project Rachel ministry is comprehensive and confidential, offering hope, healing and yearly retreats to women and men hurting from past abortions.
Marianne Luthin, Director of our Pro-Life Ministry, states, "Our work encompasses the core values of respect for the dignity of life from conception to natural death. These programs help us to promote a better understanding that every person plays a role in building a culture of life and a civilization of love."
Palliative Care Ministry
Palliative Care is also a type of ministry that is pro-life because we believe that human life is a gift from God that no one may dispose of at will.
Palliative care – a form of medical care that relieves patients of the symptoms, pain and mental stress caused by chronic or terminal illness – addresses the reasons people often give for supporting assisted suicide.
The Archdiocese of Boston is at the forefront of the palliative care movement and there is a huge demand for our ministry's information and services. 
Your gift to the Catholic Appeal supports the work of Pro-Life and Palliative Care to help advocate for human dignity for all.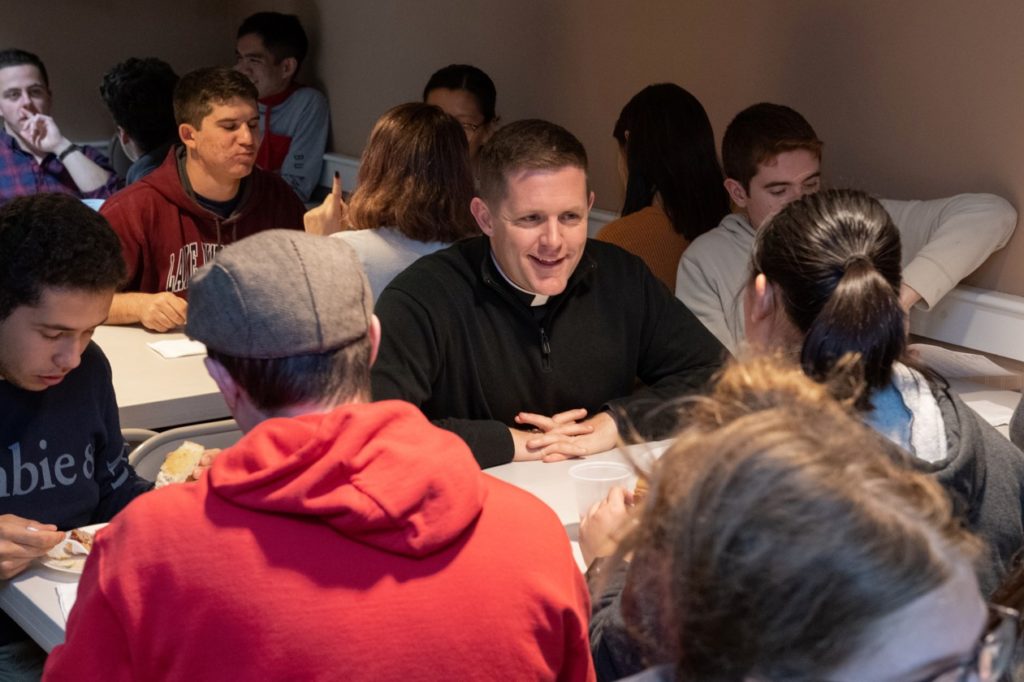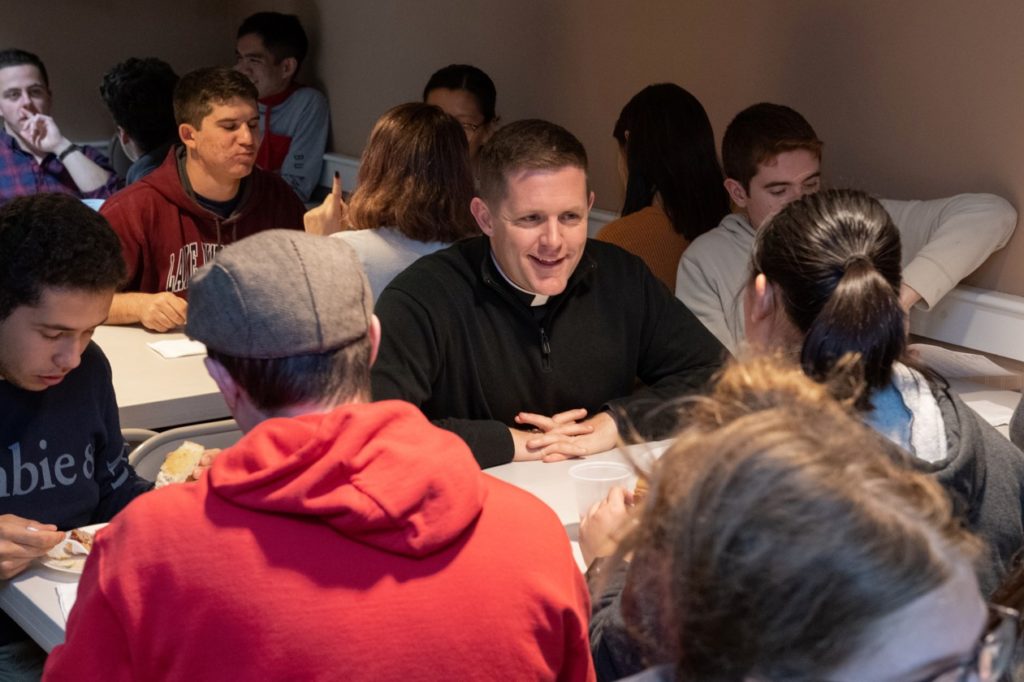 Educating and Forming the Future of our faith.
Nearly 20% of funds raised through the annual Appeal are directed to programs to walk with our brothers and sisters of all ages on their journeys of faith. This includes providing vibrant and meaningful religious education resources, as well as overseeing campus ministry programs at more than 25 colleges and universities.
Programs like Project Nazareth, the at-home faith formation curricula that was circulated during the pandemic, have helped parishes enrich their religious education programs, encouraging interaction with the whole family. Meanwhile, our campus ministry programs, like the one at Boston University, have increased vocations in a significant way over the course of the last few years.
Fr. Eric Cadin, Director of Vocations and Campus Ministry for the Archdiocese of Boston, sees an enormous opportunity at a critical time to bring college students closer to their faith. "We cannot do this work alone. And the opportunity is an extraordinary one in the difference it can make in our Church," says Fr. Cadin.
Your gift to the Catholic Appeal supports faith-based programs for children, college students, and adults that are critical to shaping the future of our Church.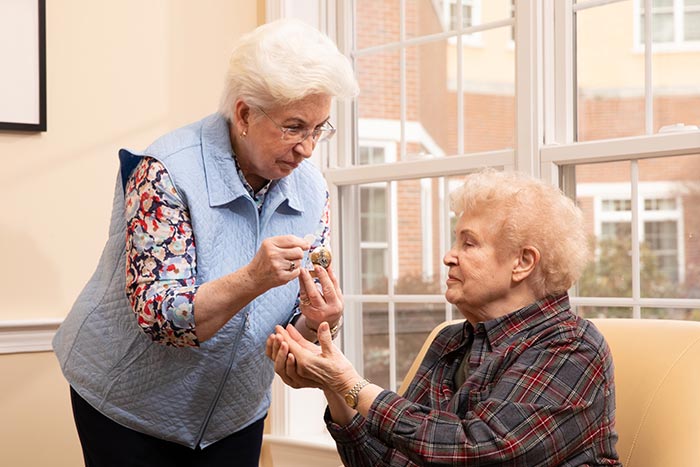 Chaplaincy & Faith Community Nursing
CHAPLAINCY
The Archdiocese's Chaplaincy Office oversees, trains, and coordinates hospital and prison chaplains serving all over Greater Boston.
The halls of a hospital can often be a place of great uncertainty and concern for patients and hospital staff alike, a truth magnified during the pandemic. At Winchester Hospital, Chaplain Mary Beth Moran brings a ministry of presence to all those she encounters, offering a message of hope during difficult times. With extensive training and expertise in her field, she has also provided counsel for the hospital's board of ethics. During the pandemic, she has pivoted swiftly to ensure she can continue ministering to patients and staff in a safe way.
FAITH COMMUNITY NURSING
The Archdiocese of Boston supports the training of volunteer faith community nurses who offer spiritual, emotional, and health-promoting support for sick and homebound parishioners.
Gerry Nelson, one of these nurses, volunteers nearly 20 hours of her time each week to offer assistance to those in need. "I think the difference between being a faith community nurse and being a visiting nurse, is my availability to those I serve. I am helping people search out and resolve the problems that they may be dealing with, whether it's an emotional issue or a health issue," said Gerry.
Your generosity supports chaplains and faith community nurses in their work as they bring the presence of Christ to those in need of His love and mercy.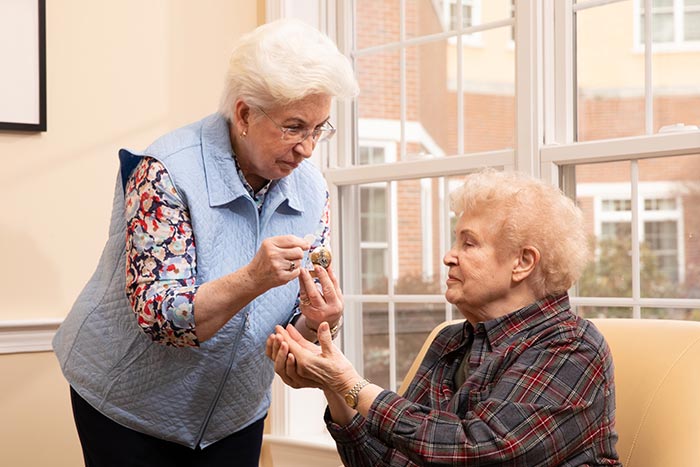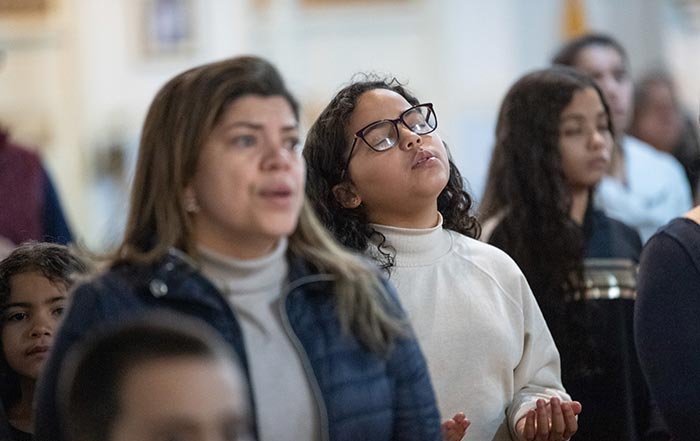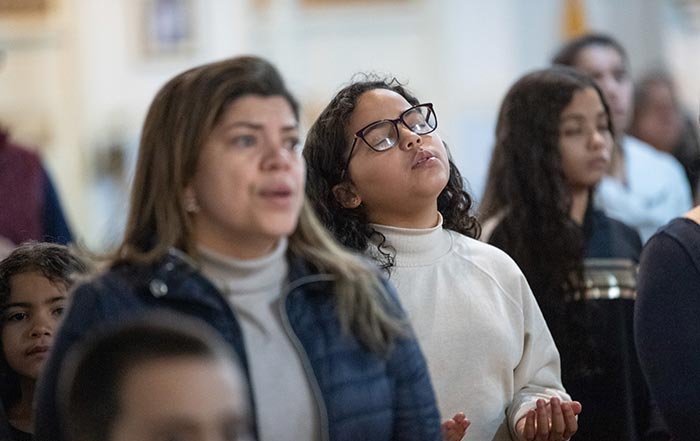 Support for Ethnic Ministries
Embracing and Serving our culturally diverse church.
At the Archdiocese of Boston, we celebrate our cultural diversity. With Mass said in 22 different languages at nearly 100 parishes, we are ethnically rich and diverse. 
For many immigrants starting a new life in our country, our parishes are the first place they can call home. A home away from home, they provide a much-needed place for community and immersion into a new culture while practicing their faith.
The Faith Formation and Missionary Discipleship for Ethnic Communities Ministry works tirelessly to provide advocacy and consultation services to integrate ethnic communities into our parish life. This team is an essential part of our Church's emerging cultural landscape. 
Your generosity supports a team that provides support to ethnic communities at parishes across the Archdiocese.
HELPING ALL OF OUR BROTHERS AND SISTERS IN NEED.
Approximately one-fifth of funds raised through the Catholic Appeal are dedicated to bringing the light of Christ to those in need in myriad ways. This includes offering support to those affected by addiction, as well as training chaplains to work in hospitals and prisons across Greater Boston.
In the U.S., 1 in 3 households suffer from, are exposed to, or are otherwise impacted by the scourge of addiction. With this in mind, Cardinal Seán has been at the forefront of addiction recovery ministry, establishing not only an Archdiocesan Opioid Addiction Task Force, but also a specific ministry to work with those affected by addiction and their families. While the Task Force works to identify and develop pastoral support programs for parishes and schools within the Archdiocese of Boston (such as the iThirst program), the Archdiocesan Addiction Recovery Pastoral Support Services (AARPSS) collaborates with various agencies and organizations to assist our parishes by seeking education, prevention, treatment, and solutions for the disease of addiction. To watch a video highlighting this important work, click here.
Your gift to the Catholic Appeal supports programs that address the disease of addiction, ensuring that our parish communities, priests, and laity can be a source of comfort, support, and guidance for those who turn to the Church for assistance.